OAK CREEK, Wis. – August 8, 2014 – NeoBrake Systems, Inc., a leading North American heavy-duty brake remanufacturer, announced today the completion of its branding makeover, featuring a reimagined corporate logo, identity materials, and bold slogan: Reman Up.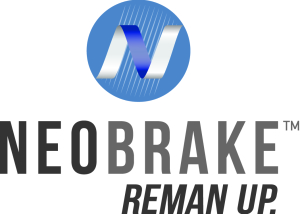 The new logo features a two-tone word mark combing the words "Neo" and "Brake" without a space or hyphen, flanked by an iconic blue circle showcasing a stylized ribbon-like "N" and 13 vertical lines, symbolizing not only the fibrous raw materials used to make NeoBrake brake blocks, but one for each of 13 children of NeoBrake owner Rick Ballew's parent's.
"There's no stronger bond than family," shared Ballew. "This is a family operation, and that's how we treat our employees, even our customers. Beyond that, it's analogous to the strength and quality of our friction material."
To spearhead the rebranding initiative, Ballew sought the branding expertise of Yoder, Yoder & Yoder, a Milwaukee-area creative boutique and brand consultancy. Agency Founder and Creative Director Steve Yoder jumped at the opportunity to work with NeoBrake, citing the passion of Ballew and the quality story that had yet to be told.
"NeoBrake is an industry dominated by large public OEMs, but when you strip away all the layers and compare products, NeoBrake puts out a product that performs bigger," stated Yoder. "Our objective was creating a brand persona that was every bit as large and sophisticated as their competitors, to establish the look of credibility for which they've earned."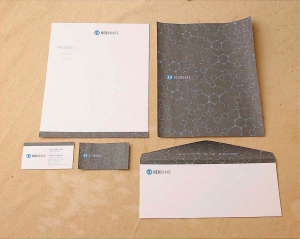 In addition to creating the corporate identity and slogan, Yoder and his team branded the formulation process Ballew used to produce NeoBrake's premium-grade brake linings. NeoKinetic Friction Technology™ is that process, created to position
and separate NeoBrake from its competitors.
"We want people to know there's more to evaluating friction material than just on price," added Ballew. "When we're able to walk customers through our formulation process…and the savings they'll realize over the life of our linings. Not to mention the added performance and safety benefits that come with it."
For more information, visit NeoBrake.com, call 1-888-411-9916, or contact Rick Ballew at rballew@neobrake.com.
About NeoBrake
NeoBrake Systems, Inc. is a leading North American remanufacturer of heavy-duty brakes and formulator of world-class asbestos-free brake drum and air disc brake linings, as well as the marketer of superior-grade, performance-enduring Matrix wheel-end replacement parts and axle hub grease. NeoBrake operates throughout the continental United States, strategically locating warehouse distribution centers in highest volume regions to ensure 2-day deliver. Founded in 1988, NeoBrake is privately owned and headquartered in Oak Creek, Wisconsin—a Milwaukee suburb. For more information, visit www.NeoBrake.com or call 1-888-411-9916. Follow NeoBrake (@RemanUp) on Twitter.
###